Tea Sparkling Drink Non Alcoholic Pineapple Flavour
Sample:

Free Sample - Free Design
Volume:

330 ml
Packaging:

Aluminum Can
Shelf life:

24 months
Payment:

L/C,T/T
FOB price:

Live chat or call us
Delivery time:

20 -25 day after Order
Certification:

ISO, HACCP, FDA, HALAL, USDA, ORGANIC ...
Minimum order quantity:

200 Carton/Oder
Port:

Cat Lai Port, Ho Chi Minh City, Vietnam.
Supply ability:

300 Twenty-Foot Container/Month.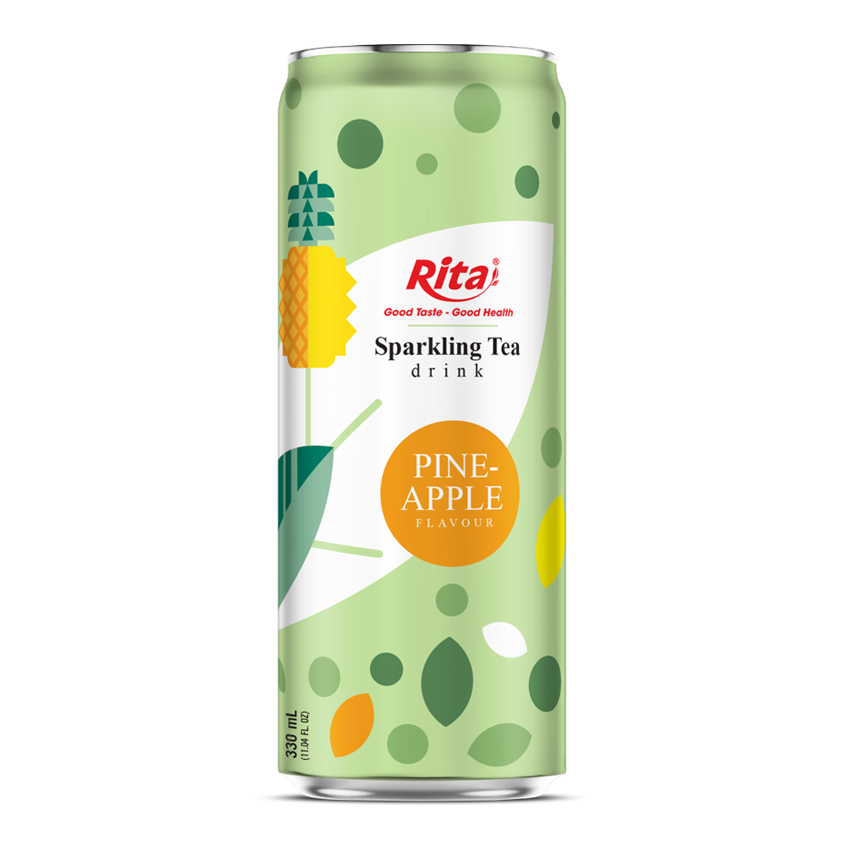 FEATURE
Introducing a refreshing delight for your taste buds: a sparkling tea drink infused with the tropical essence of pineapple. This refreshing beverage combines the crispness of effervescent bubbles with the sweet tang of juicy pineapple, creating a harmonious fusion of flavors. With every sip, you'll experience a tropical paradise as the sparkling tea tantalizes your palate and leaves a refreshing sensation. Indulge in the vibrant and vital notes of pineapple, perfectly balanced in this sparkling tea drink, and let its effervescence transport you to a tropical getaway with each sip.
HEALTH BENEFITS
Indulging in this sparkling tea drink with pineapple flavor not only satisfies your taste buds but also offers an array of health benefits. Pineapple, the star ingredient, is packed with essential vitamins, such as vitamin C, which supports a healthy immune system, boosts collagen production, and promotes skin health. It also contains manganese, a mineral crucial for bone health and metabolism regulation. Another significant component of pineapple is bromelain, an enzyme known for its anti-inflammatory properties, aiding in digestion and potentially reducing pain and swelling.
Moreover, the tea base itself can provide additional health perks. Tea is well-known for its high antioxidant content, which helps combat free radicals in the body, reducing the risk of chronic diseases. Antioxidants also play a role in promoting heart health and reducing the risk of cardiovascular issues. Additionally, tea is a natural source of hydration and can contribute to maintaining proper fluid balance in the body.
Savor the delightful combination of pineapple and sparkling tea, and let this invigorating drink not only tantalize your taste buds but also contribute to your overall well-being.
RITA FOOD AND DRINK CO.,LTD

084 274 3784788

marketing@rita.com.vn

Song Than 2, Di An, Binh Duong, Vietnam
Good health & Good taste.
We bring you the fresh, healthy, nutritional juice drink by applying creativity and innovation to natures bounty, since we are in the tropical region of Vietnam.
Top