Sparkling Tea Drink Pomegranate Flavor
Sample:

Free Sample - Free Design
Volume:

330 ml
Packaging:

Aluminum Can
Shelf life:

24 months
Payment:

L/C,T/T
FOB price:

Live chat or call us
Delivery time:

20 -25 day after Order
Certification:

ISO, HACCP, FDA, HALAL, USDA, ORGANIC ...
Minimum order quantity:

200 Carton/Oder
Port:

Cat Lai Port, Ho Chi Minh City, Vietnam.
Supply ability:

300 Twenty-Foot Container/Month.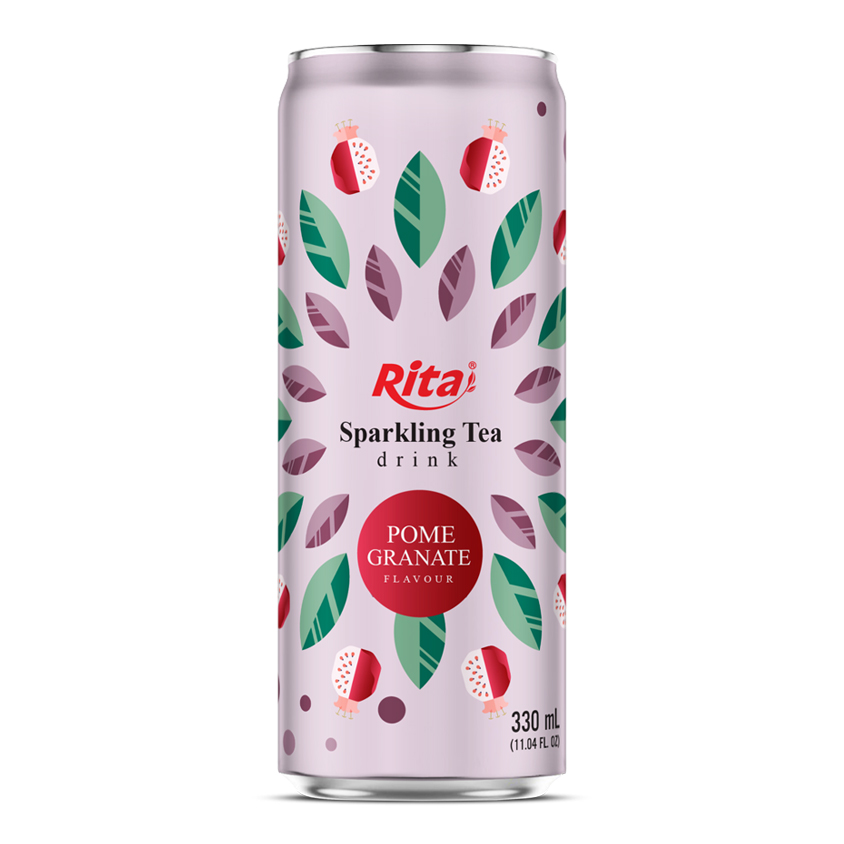 FEATURE
Rita Sparkling tea drink with pomegranate is a refreshing and flavorful beverage that combines the natural goodness of tea with the vibrant taste of pomegranate. The harmonious fusion of tart and slightly sweet pomegranate flavors perfectly balances the earthy undertones of tea, resulting in a truly satisfying taste experience. Whether you're looking for a lively and effervescent alternative to carbonated drinks or a revitalizing departure from ordinary teas, Rita Sparkling's animated texture and fruity profile make it an excellent choice.
HEALTH BENEFITS
Sparkling tea with pomegranate flavor not only offers a refreshing taste but also provides several potential health benefits. Here are some of the health benefits associated with this delightful beverage:
Antioxidant-rich
Pomegranates are known for their high antioxidant content, and when combined with tea, they create a potent blend. The presence of antioxidants in sparkling tea with pomegranate flavor aids in neutralizing harmful free radicals within the body. By doing so, it may potentially lower the risk of chronic diseases and contribute to an improved state of well-being.
Cardiovascular support
Both tea and pomegranate have been linked to heart health. Tea contains compounds linked to potential benefits in lowering cholesterol levels and reducing the risk of heart disease. Pomegranates are also known to benefit heart health, such as reducing blood pressure and improving blood flow.
Immune system boost
Pomegranates are abundant in vitamin C, a crucial nutrient vital in supporting immune system. Consuming sparkling tea with pomegranate flavor can naturally boost your body's defenses, helping to ward off common illnesses and infections.
Digestive aid
Tea is often associated with digestive benefits. Pomegranate, with its high fiber content, can also promote healthy digestion. Combining tea and pomegranate in a sparkling drink can provide a gentle yet effective way to support digestive health.
Hydration and hydration alternative
Staying hydrated is vital for overall health, and sparkling tea with pomegranate flavor can be a refreshing and flavorful alternative to plain water. The bubbles and taste make it an enjoyable option to keep you hydrated throughout the day.
RITA FOOD AND DRINK CO.,LTD

084 274 3784788

marketing@rita.com.vn

Song Than 2, Di An, Binh Duong, Vietnam
Good health & Good taste.
We bring you the fresh, healthy, nutritional juice drink by applying creativity and innovation to natures bounty, since we are in the tropical region of Vietnam.
Top