Coconut Water With Mango Flavor
Sample:

Free Sample - Free Design
Volume:

330 ml
Packaging:

Aluminum Can
Shelf life:

24 months
Payment:

L/C,T/T
FOB price:

Live chat or call us
Delivery time:

20 -25 day after Order
Certification:

ISO, HACCP, FDA, HALAL, USDA, ORGANIC ...
Minimum order quantity:

200 Carton/Oder
Port:

Cat Lai Port, Ho Chi Minh City, Vietnam.
Supply ability:

300 Twenty-Foot Container/Month.
[caption id="attachment_1589" align="aligncenter" width="844"]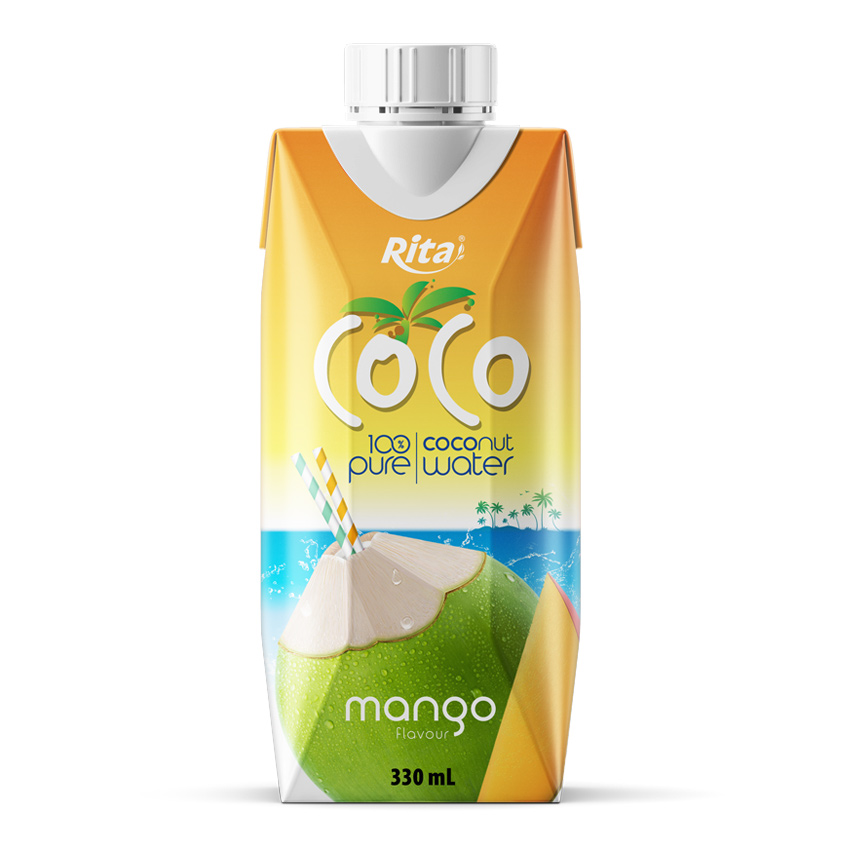 COCO 100% pure coconut water with mango flavour 330ml Paper box. RITA provides free sample and design services for OEM, with a multilingual team and acceptance of multiple currencies.[/caption]
FEATURE
Taste the essence of the tropics with Coconut Water infused with the exotic flavor of mango. This refreshing blend combines pure coconut water with the succulent sweetness of ripe mangoes. Stay hydrated and enjoy a tropical getaway with every sip. Crafted from the finest coconuts and mangoes, it's a guilt-free indulgence bursting with natural goodness. Savor the harmonious blend of coconut and mango and let your taste buds escape to paradise.
HEALTH BENEFITS
Vietnam's natural coconut water is renowned for its abundant electrolytes, vitamins, and minerals, offering a naturally refreshing experience with a delightful blend of sweetness and nuttiness.
Hydration
Coconut water infused with mango flavor quenches your thirst and replenishes your body's fluids. Packed with natural electrolytes like potassium, sodium, and magnesium, it restores hydration and maintains proper fluid balance.
Nutrient-rich
This tropical fusion is a powerhouse of essential vitamins, minerals, and antioxidants. Mangoes, rich in vitamin C, support immune function and stimulate collagen production for healthy skin and tissues. Coconut water contributes vitamin B-complex, calcium, and iron, promoting overall health and vitality.
Digestive Health
The natural enzymes present in coconut water with mango aid digestion by facilitating food breakdown. Additionally, the fiber content in mangoes supports healthy digestion and helps prevent constipation.
Natural Energy Boost
The natural sugars in mangoes provide a quick and sustained energy source. Combined with the electrolytes in coconut water, this beverage offers a natural energy boost, making it an ideal choice for pre-or post-workout hydration.
Skin and Hair Health
The vitamins and antioxidants in coconut water with mango contribute to healthy skin and hair. Vitamin C, in particular, promotes collagen production, maintaining skin elasticity and vitality. The hydrating properties of coconut water also help moisturize and enhance the appearance of your skin.
Enjoy the goodness of coconut water not only for its delicious taste but also for the hydration, essential nutrients, digestive support, antioxidant protection, weight management assistance, and skin health benefits it provides.
RITA FOOD AND DRINK CO.,LTD

084 274 3784788

marketing@rita.com.vn

Song Than 2, Di An, Binh Duong, Vietnam
Good health & Good taste.
We bring you the fresh, healthy, nutritional juice drink by applying creativity and innovation to natures bounty, since we are in the tropical region of Vietnam.
Top