Coconut Water Pink Guava Flavor
Sample:

Free Sample - Free Design
Volume:

330 ml
Packaging:

Aluminum Can
Shelf life:

24 months
Payment:

L/C,T/T
FOB price:

Live chat or call us
Delivery time:

20 -25 day after Order
Certification:

ISO, HACCP, FDA, HALAL, USDA, ORGANIC ...
Minimum order quantity:

200 Carton/Oder
Port:

Cat Lai Port, Ho Chi Minh City, Vietnam.
Supply ability:

300 Twenty-Foot Container/Month.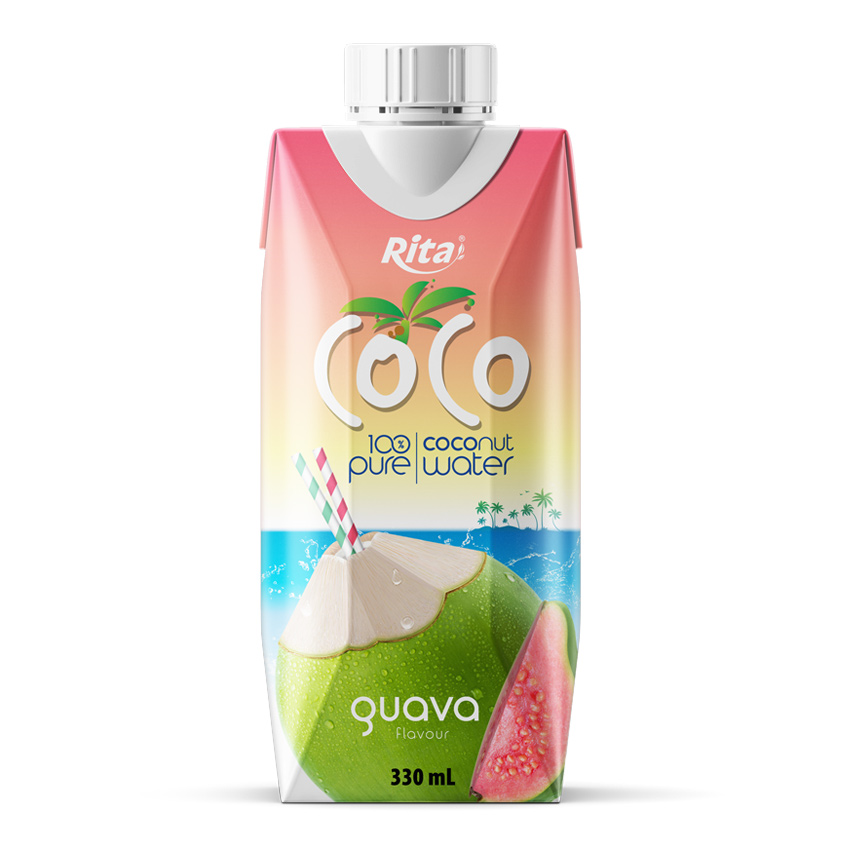 FEATURE
Discover the exquisite combination of Rita Coconut Water: a compelling blend of coconut water and pink guava juice. Loaded with calcium, nutrients, electrolytes, vitamins, and minerals, this refreshing drink empowers your desired lifestyle. As trusted coconut water suppliers in Vietnam, we carefully select premium coconuts for our coconut water. With the infusion of pink guava juice, our state-of-the-art manufacturing and quality control systems ensure a delicious beverage packed with the finest taste and abundant nutrients, minerals, and vitamins.
HEALTH BENEFITS
Vietnamese coconut water is a nutritious and refreshing drink that can provide a variety of health benefits. However, it is important to choose brands that do not contain added sugars or artificial flavors, as these can negate the health benefits of coconut water.
Hydration
Coconut water is an excellent natural hydrator, while pink guava juice adds a refreshing twist. This combination replenishes electrolytes and fluids, making it a perfect choice for rehydration.
Essential Nutrients
Coconut water and pink guava juice are brimming with vital vitamins, minerals, and antioxidants. Coconut water provides potassium, magnesium, and vitamin C, while pink guava juice adds dietary fiber, vitamin A, and vitamin E. This nutrient-rich blend supports overall health and vitality.
Digestive Wellness
Both coconut water and pink guava juice possess digestive properties. Coconut water soothes the stomach and aids digestion, while pink guava juice's fiber content promotes healthy digestion and helps prevent constipation.
Immune Support
The vitamin C in pink guava juice boosts the immune system, aiding the body's defense against illnesses and infections. Regular consumption of this blend can contribute to a more robust immune response.
Bone Strength
Coconut water contributes to maintaining strong bones due to its calcium content. Paired with the nutrients in pink guava juice, such as vitamin A and magnesium, this blend promotes optimal bone health and may help prevent bone-related conditions.
Antioxidant Power
Loaded with antioxidants such as vitamin C and vitamin E, pink guava juice shields cells from free radical damage, promoting skin health and offering anti-aging advantages.
RITA FOOD AND DRINK CO.,LTD

084 274 3784788

marketing@rita.com.vn

Song Than 2, Di An, Binh Duong, Vietnam
Good health & Good taste.
We bring you the fresh, healthy, nutritional juice drink by applying creativity and innovation to natures bounty, since we are in the tropical region of Vietnam.
Top