100% Real Coco Organic Pure Coconut Water And Watermelon 1L
Sample:

Free Sample - Free Design
Volume:

1L
Packaging:

Paper Box
Shelf life:

24 months
Payment:

L/C,T/T
FOB price:

Live chat or call us
Delivery time:

20 -25 day after Order
Certification:

ISO, HACCP, FDA, HALAL, USDA, ORGANIC ...
Minimum order quantity:

200 Carton/Oder
Port:

Cat Lai Port, Ho Chi Minh City, Vietnam.
Supply ability:

300 Twenty-Foot Container/Month.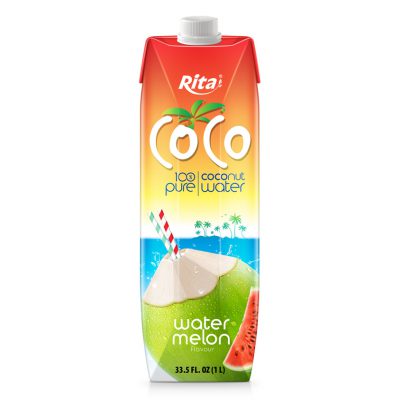 FEATURE
Discover the essence of coconut water in its purest form, complemented by the irresistible flavor of watermelon. This harmonious combination captures the hydrating qualities of coconut water, infusing it with the tantalizing taste of juicy watermelon. With every sip, the refreshing watermelon flavor transports you to a tropical oasis, rejuvenating your senses and keeping you hydrated all day long. Experience the perfect fusion of Rita Coconut Water with Watermelon Flavor, embarking on a refreshing and invigorating journey of taste and hydration.
HEALTH BENEFITS
The combination of coconut water and watermelon juice offers a multitude of health benefits. Here are some key advantages:
Hydration
Both coconut water and watermelon are excellent hydrating agents. Natural coconut water is naturally rich in electrolytes, such as potassium, magnesium, and calcium, while watermelon contains a high water content. This duo helps replenish fluids, regulate body temperature, and maintain optimal hydration levels.
Nutrient Powerhouse
Coconut water and watermelon are packed with essential vitamins and minerals. Coconut water is a good source of vitamin C, B-complex vitamins, and minerals like magnesium, manganese, and zinc. Watermelon is abundant in vitamin A, vitamin C, and lycopene—an antioxidant. These nutrients support overall health, boost the immune system, and promote healthy skin.
Electrolyte Balance
The electrolyte content in coconut water, combined with the potassium found in watermelon, helps maintain electrolyte balance in the body. This balance supports muscle function and fluid regulation and prevents muscle cramps.
Digestive Health
Coconut water contains natural enzymes that aid digestion and promote a healthy gut. Watermelon is high in fiber, aiding in digestion and preventing constipation. Together, they contribute to a healthy digestive system and promote regularity.
Antioxidant Protection
Coconut water and watermelon are rich in antioxidants, which combat oxidative stress and reduce inflammation in the body. These antioxidants contribute to cellular protection, bolster the immune system, and may have anti-aging effects.
Exercise Recovery
The combination of coconut water and watermelon is an excellent choice for post-workout recovery. They replenish lost fluids, restore electrolyte balance, and provide natural sugars for energy replenishment.
RITA FOOD AND DRINK CO.,LTD

084 274 3784788

marketing@rita.com.vn

Song Than 2, Di An, Binh Duong, Vietnam
Good health & Good taste.
We bring you the fresh, healthy, nutritional juice drink by applying creativity and innovation to natures bounty, since we are in the tropical region of Vietnam.
Top