100% Organic Coconut Water Original No Added Sugar 1L
Sample:

Free Sample - Free Design
Volume:

1L
Packaging:

Paper Box
Payment:

L/C,T/T
FOB price:

Live chat or call us
Delivery time:

20 -25 day after Order
Certification:

ISO, HACCP, FDA, HALAL, USDA, ORGANIC ...
Minimum order quantity:

200 Carton/Oder
Port:

Cat Lai Port, Ho Chi Minh City, Vietnam.
Supply ability:

300 Twenty-Foot Container/Month.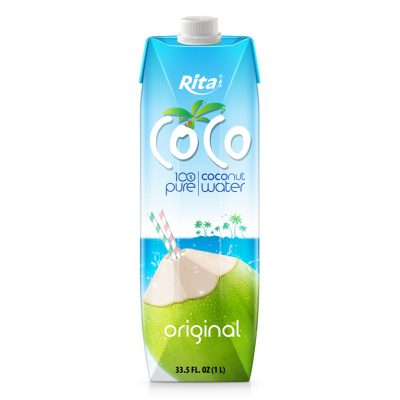 FEATURE
Growing abundantly in the fertile alluvial plain of the Mekong Delta, the coconut tree is hailed as "The Tree of Life" in this region. The coconuts harvested from here are inherently sweet and offer numerous health benefits. Brimming with electrolytes, vitamins, and minerals, Vietnam's natural coconut water presents a naturally refreshing beverage with a delightful blend of sweetness and nuttiness.
We carefully select only the finest coconuts harvested from the bountiful Mekong region to create Rita Coconut Water. Utilizing state-of-the-art manufacturing and rigorous quality control systems in our factory, we produce and export all-natural flavored coconut water products to destinations across the globe.
HEALTH BENEFITS
Hydration
Coconut water is an excellent natural electrolyte-rich beverage that helps replenish and hydrate the body. It contains essential minerals like potassium, sodium, magnesium, and calcium, vital for maintaining proper fluid balance.
Nutrient-rich
Coconut water is a good source of vitamins, such as vitamin C, B-complex vitamins, and antioxidants. These nutrients support immune function, promote cell health, and boost energy.
Natural rehydration after exercise
Due to its electrolyte content, coconut water is often used as a natural alternative to sports drinks for post-workout rehydration. It helps restore electrolyte balance and can prevent muscle cramps.
Digestive health
Coconut water contains dietary fiber, which aids in digestion and helps prevent constipation. It also has natural enzymes that assist in breaking down food and improving overall digestive function.
Heart health
Some studies suggest that coconut water may positively impact heart health by reducing cholesterol levels and lowering blood pressure. It is low in fat and cholesterol and may contribute to maintaining a healthy cardiovascular system.
Weight management
With its low calorie and fat content, coconut water can be a good choice for those watching their weight. It provides a refreshing and satisfying alternative to sugary beverages.
RITA FOOD AND DRINK CO.,LTD

084 274 3784788

marketing@rita.com.vn

Song Than 2, Di An, Binh Duong, Vietnam
Good health & Good taste.
We bring you the fresh, healthy, nutritional juice drink by applying creativity and innovation to natures bounty, since we are in the tropical region of Vietnam.
Top