100% Coconut Water Pure And Blueberry Pressed 1L
Sample:

Free Sample - Free Design
Volume:

1L
Packaging:

Paper Box
Shelf life:

24 months
Payment:

L/C,T/T
FOB price:

Live chat or call us
Delivery time:

20 -25 day after Order
Certification:

ISO, HACCP, FDA, HALAL, USDA, ORGANIC ...
Minimum order quantity:

200 Carton/Oder
Port:

Cat Lai Port, Ho Chi Minh City, Vietnam.
Supply ability:

300 Twenty-Foot Container/Month.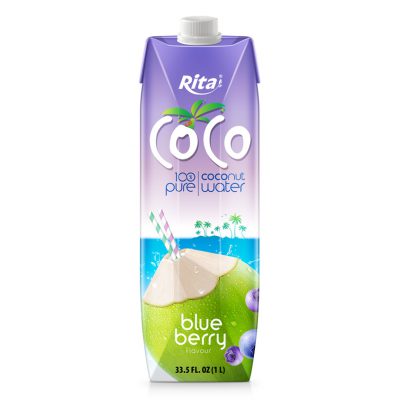 FEATURE
Experience the refreshing fusion of Vietnamese coconut water and the vibrant essence of blueberries with Rita's Coconut Water with Blueberry. This harmonious combination creates a delightful and refreshing beverage that tantalizes your taste buds. Sip on the naturally sweet coconut water, enriched with electrolytes and essential minerals, while relishing the fruity flavors from the luscious blueberries. This dynamic duo offers a satisfyingly hydrating experience and a nourishing boost of antioxidants and vitamins. Elevate your refreshment game with Rita's Coconut Water with Blueberry, the perfect companion for a revitalizing and flavorful drink.
HOW TO MAKE
As a trusted coconut water manufactuers, Rita carefully select premium coconuts to craft our coconut water. We skillfully blend it with blueberry juice to enhance its flavor and health benefits.
With cutting-edge manufacturing techniques and rigorous quality control measures at our factory, Rita's coconut water with blueberry juice is skillfully created to offer an irresistible flavor profile. Our expert craftsmanship ensures the beverage maintains abundant essential nutrients, minerals, and vitamins, providing a wholesome and enriching experience.
HEALTH BENEFITS
Combining the health benefits of coconut water and blueberry juice can provide numerous advantages. Here are some of the health benefits associated with consuming coconut water blueberry juice:
Hydration
Coconut water is a natural source of electrolytes and helps replenish fluids in the body, promoting hydration. This beverage can support optimal hydration levels when combined with blueberry juice, which also contains water.
Antioxidants
Blueberries are packed with antioxidants, including anthocyanins, which protect the body against oxidative stress. These antioxidants help reduce inflammation, combat free radicals, and lower the risk of chronic diseases.
Nutrient-Rich
Coconut water is rich in essential minerals like potassium and magnesium, while blueberries are a good source of vitamins C and K and dietary fiber. Consuming coconut water blueberry juice provides a range of essential nutrients necessary for overall well-being.
Digestive Health
Blueberries contain dietary fiber, which supports healthy digestion and contributes to regular bowel movements. Coconut water can also have a soothing effect on the digestive system, promoting a healthy gut.
Heart Health
Combining coconut water and blueberry juice can contribute to heart health. Blueberries' antioxidants help reduce the risk of cardiovascular diseases, while coconut water, being low in cholesterol, may support healthy blood pressure levels.
Immune Support
Both coconut water and blueberries contain vitamin C, crucial in supporting a healthy immune system. Regularly consuming this beverage can help strengthen immunity and protect against common illnesses.
RITA FOOD AND DRINK CO.,LTD

084 274 3784788

marketing@rita.com.vn

Song Than 2, Di An, Binh Duong, Vietnam
Good health & Good taste.
We bring you the fresh, healthy, nutritional juice drink by applying creativity and innovation to natures bounty, since we are in the tropical region of Vietnam.
Top